New York Mets News
Mets: How can the team get a cheap and worthwhile Manny Machado?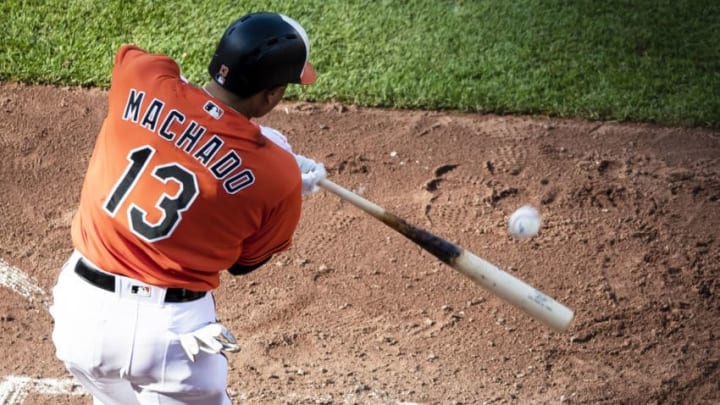 BALTIMORE, MD - JUNE 16: Manny Machado #13 of the Baltimore Orioles singles against the Miami Marlins during the seventh inning at Oriole Park at Camden Yards on June 16, 2018 in Baltimore, Maryland. (Photo by Scott Taetsch/Getty Images)
Mets
What would the Mets have to give up to get Machado this season?
There's been a lot of debate on how much the Mets would have to pay to get Machado. Some say the cost is going to be incredibly high while others say that he will be cheap.
This is the important key right here: The Orioles might be backed into a wall and forced to take a cheap deal for him.
It's all based on whether or not the Orioles want to sign Machado themselves. If they don't plan on re-signing him, they have everything to lose once free agency hits.
If they aren't going to re-sign him, and they don't trade him, he walks at the end of the year and the Orioles don't get anything in return.
They might as well trade him and get something back. Theoretically, the Orioles could ask for anything they want. But other teams are smart and will know not to bite at big offers.
Let's take a big market team like the Yankees for example. If they want to sign Machado, which they probably can, they aren't going to offer as much as what the Orioles want. They would just wait it out and make him an offer in the off-season.
Lots of teams who can afford Machado are going to realize this. They will prefer to wait until he hits free agency and sign him.
Asking for less and less
As a result, the orioles will need to keep asking for less and less in order to get something back.
Another issue is the idea of where players usually go during the trade deadline. Most of the time, the big rental players go to teams in contention who use the extra power for a quick run for the top.
Not that many contending teams would really want Machado as a Shortstop. The Astros have Carlos Correa. The Indians have Francisco Lindor. The Dodgers have Corey Seager. The Yankees are fine with Didi Gregorius.
Some teams that are in contention are set at the position and wouldn't really need Machado, especially for the price.
All those factors play a big role. The thought of Machado walking, the lack of teams that could use Machado, and the thought of waiting until the off-season to sign him. This will make him fairly cheap to trade for him.
Last month the general idea was that a trade package for Machado would be worth about three or four players. If the Mets wanted him, they would have to move someone like Seth Lugo plus a few minor leaguers.
That has changed a lot, and at this point, maybe the Mets would only have to offer minor leaguers. Maybe a package that revolves around a guy like Justin Dunn or another player would be enough.
Next: Brandon Nimmo doesn't need to hit lefties well to have an impact
Want your voice heard? Join the Rising Apple team!
There are many ways that the Mets can make this work at this point. The Mets should take advantage of this situation and finish the season on a high note.