Mets: How can the team get a cheap and worthwhile Manny Machado?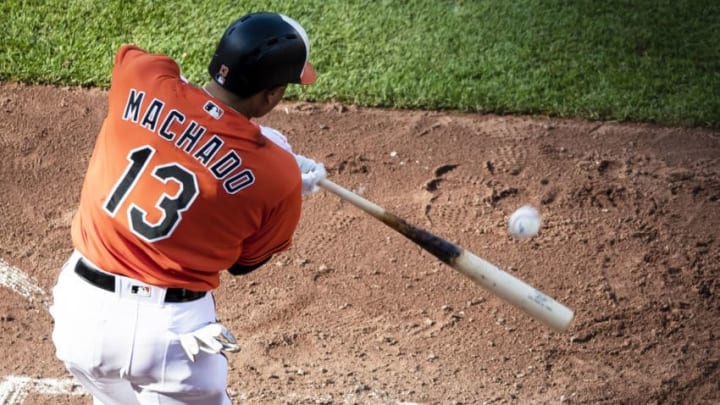 BALTIMORE, MD - JUNE 16: Manny Machado #13 of the Baltimore Orioles singles against the Miami Marlins during the seventh inning at Oriole Park at Camden Yards on June 16, 2018 in Baltimore, Maryland. (Photo by Scott Taetsch/Getty Images) /
Mets /
How would Machado help the Mets this season?
Realistically, the Mets don't even need him next season or beyond. They wouldn't even need him to play like how Yoenis Cespedes played in 2015.
But, if 2018 really is a lost season, then whatever Machado can offer can help the team build up momentum going into next season.
If the Mets keep losing and they go on to end the season 15-20 games under .500, then the 2019 season is going to pretty much start the exact same way that 2018 ended if they don't make big moves in the off-season.
Plus the fans are only going to get angrier, and it will take a lot more to dig the team out the deeper they get into this hole.
That's why having Machado this season is the right move for the Mets. Regardless of whether he stays or not, he would help the Mets now.
Odds are he's not going to single-handedly carry the Mets to the playoffs, but every little bit would help. Machado has the kind of stats that can help the team win a couple extra games here and there. Games that they might not have been able to win without him.
2019 Momentun
If he spends two to three months with the Mets and they end up finishing the season closer to .500, it would be much easier for the Mets to dig themselves out of the hole. The team probably wouldn't have all the support back. However, they would have a decent amount of momentum going into the 2019 season. There wouldn't be an air of devastation around the team anymore.
Let's not forget that having Machado on the team, for however short a period, would be a huge marketing draw for the team. From a fans standpoint, they would love to see the Mets more often if Machado was there. Every game in August and September would be entertaining, regardless of where the team is.
Then of course, you have the possibility that the combination of Machado and Cespedes could work wonders. Maybe the two together could power the team into contention and draw in huge crowds.
Lastly, think about the small chances of the team actually signing Machado. The odds that the Mets sign Machado in 2019 and incredibly small. But like what happened with Cespedes, it's best to have the player play for you before the time comes. Maybe the two sides could actually agree to something if they get to know each other better.