New York Mets News
Mets: How can the team get a cheap and worthwhile Manny Machado?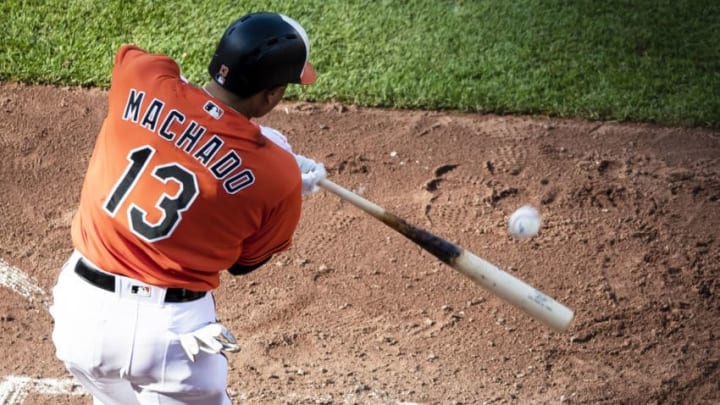 BALTIMORE, MD - JUNE 16: Manny Machado #13 of the Baltimore Orioles singles against the Miami Marlins during the seventh inning at Oriole Park at Camden Yards on June 16, 2018 in Baltimore, Maryland. (Photo by Scott Taetsch/Getty Images) /
The Mets aren't going to go anywhere without making a splash, and Manny Machado is the kind of splash that the Mets need.
Manny Machado has been beyond fantastic this season. He's still hitting above .300 and is closing in on his 20th home run of the season. Having him on the New York Mets would be a huge boost to how the team performs.
We'll talk about how Machado would help the Mets and what he would cost later on, but for now let's take a look at some of his stats.
Entering today, he's played in nearly all of the Orioles games and is on pace for what will easily be his best season ever.
Right now he already has 18 home runs to his name. if he can keep up his rate and rarely misses any games, he could finish the season with 40 home runs, if not a few more.
More from New York Mets News
He's hit at least 30 home runs in each of his last three seasons, but his career best was 37, which was in 2016.
His ability to drive runners in has also been on the rise as he has 53 already. He's never had more than 100 in a season but could finish 2018 with as many as 120.
His average has been dipping lately, but his power and his ability to get on pace has been pretty consistent throughout the season.
Even is his stats started to drop a lot to the point where he reverts back to how he played last season, he would still be one of the best power hitters in the game and a potential all-star and MVP candidate.
Any team who has Machado on their roster would benefit in one way or another. There are plenty of ways that the Mets could be one of those teams and turn 2018 to their favor by trading for him.