Mets Prospect Watch: A level-by-level glimpse at the top prospects in the organization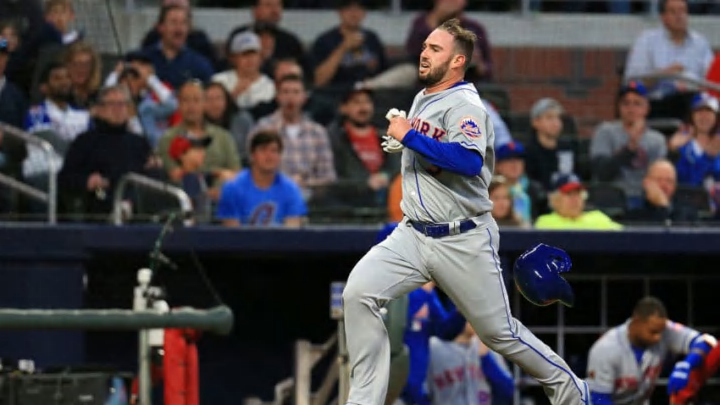 Mets /
Class-A Advanced: St. Lucie Mets
The Venezuelan shortstop Gimenez was signed as an international free agent by the Mets in 2015 and had two quick stints in the Dominican Summer League. From there, he joined the Columbia Fireflies and had a nice first professional season. Gimenez was then assigned to St. Lucie, where he is now.
Gimenez has a nice, smooth swing and can turn on a ball in an instant. He rarely strikes out, and his knack for making contact is evident, considering he has only struck out a total of 111 times through three seasons. His defense is regarded by some scouts as top-notch and his excellent instincts and arm strength show for it.
Gimenez is currently in Florida playing for St. Lucie. So far, he has played in 32 games, stringing together 116 At-bats with a batting average of .259, an OBP of .326, and a slugging percentage of .414.
A 2016 first round pick, and former Boston College Eagle, Dunn transition from a middle reliever to a starting pitcher during his junior year of college. From there out, he absolutely dominated and the Mets took him 19th overall in 2016.
Dunn has a nice fastball that tops out at about 97 mph and has three above-average breaking pitches as well. His former manager and current manager for the Brooklyn Cyclones, Tom Gamboa said:
""His stuff is reminiscent of a young Doc Gooden… He's not as tall as Doc, but he's real fun to watch.""
That's certainly the complement of all compliments for a young player aspiring to be a major league starting pitcher some day. This year, Dunn has compiled an ERA of 2.13, with a 2-2 record and a total of 28 strikeouts through 5 games.
Mets /
Double-A: Binghamton Rumble Ponies
Alonso was selected 64th overall in the 2016 MLB Draft by the Mets. He attended Jesuit High School in Tampa Bay and later played three seasons of college ball at the University of Florida. Alonso is cruising through the minors, after being recently promoted to Double-A Binghamton to start the season.
Alonso is all power. To complement his firepower at the plate, his excellent eye allows him to only swing at the pitches he knows he is able to crack. His defense, meanwhile, needs to improve greatly. It just doesn't seem like Alonso has a great feel for the game while playing at 1B.
His offensive stats jump off the paper this season. In 34 games played, he has totaled 121 at-bats and is hitting for an average of .355. He has 9 dingers, 30 RBIs and an OBP of .466. He's hitting the cover off of the ball!
A 2012 signee out of the Dominican Republic in 2012, Molina soared onto the Mets' radar when he joined the Cyclones in 2014. With the Cyclones, Molina had one of the greatest seasons for a pitcher in Cyclones History. Molina underwent Tommy John in 2015 and missed the entire 2016 season. When he returned in 2017, he split time between St. Lucie and Binghamton, working off some rust from his year off.
Due to his erratic form, Molina is incredibly susceptible to injuries. With that being said, other than his Tommy John in 2015, it generally works for him. His fastball runs in the low to mid-90s but seems to have lost some velocity and gone downhill since his surgery. Fortunately for him, though, his slider and changeup seem to have stayed in form.
This season, Molina is 1-4 with a 7.34 ERA with Binghamton. In 34.1 IP, he has struck out 24 but allowed 29 runs. A rough start to 2018 for Molina.
Mets /
Triple-A: Las Vegas 51s
We got a sneak peek at these players because they were in the majors for some time, but only for a short period of time. These players are sure to be up for a longer period of time in the future.
The Mets selected Flexen out of Newark Memorial High School in California in the 14th round of the 2012 MLB Draft. After his Tommy John surgery in 2015, he rose through the minors relatively quickly with a few minor bumps. Flexen was eventually called up in July 2017 directly from Double-A. Unfortunately for him, he struggled mightily in his MLB Debut and soon thereafter.
More from Rising Apple
Flexen doesn't have that "one pitch" that stands out. However, he does have a full repertoire of decent pitches that include a four-seam fastball, a two-seam fastball, a curveball, and a changeup. His two types of fastballs sit around 91-93 mph, respectively. Command of his pitches can be an issue for him at times, as he has a high BB count, but the hope is he can fine-tune that in the coming years.
In 7 games for the 51s, he is 2-3 with an ERA of 4.13 in 32.2 IP. He has struck out 27 batters and has a WHIP of 1.684.
The Mets used their 2012 eighth-round selection on Nido, a catcher out of Orangewood Christian School in Maitland, Florida.
Nido struggled through his first professional season in Kingsport but got it going in 2016 at St. Lucie when he hit .320 and won the batting title for the Florida State League. He was then promoted to Double-A and had short stints with the Mets at the end of last season and the beginning of this season.
You're not going to find a power slugger in Nido. You will find a disciplined hitter with some pulling ability, though. His defense behind the plate is what makes him special. He is quick, able to frame pitches effectively and throw runners out at a high rate.
Nido has had a crazy start to his 2018 season. Through just a little over a month, he has bumped around from Double-A, the majors, and now Triple-A. Nido hit for a putrid .135 mark in the majors through 37 at-bats with 15 strikeouts.
Next: Mets Week Six Recap: Mediocrity overtakes the offense yet again
Want your voice heard? Join the Rising Apple team!
Fortunately for him, he's faring at least a little better in Triple-A, where he is batting .200 in three games.