New York Mets: Four players who will not return in 2019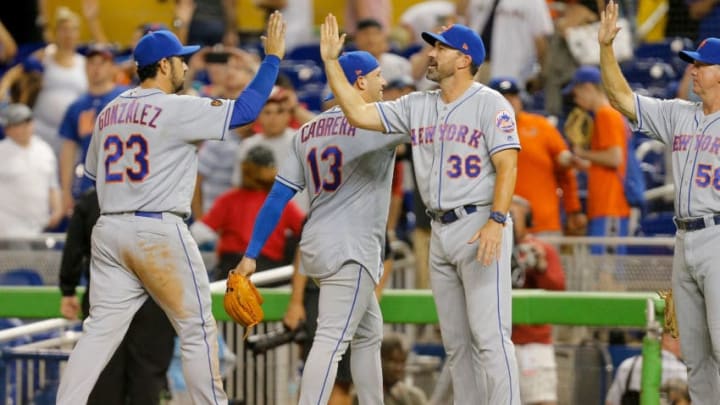 MIAMI, FL - APRIL 09: Adrian Gonzalez /
Mets /
Closer Jeurys Familia missed most of 2017 due to a blood clot. Now back, and pitching well I should add, the Mets face a tough decision at the end of the year. Do they keep Familia around for another season or should they move onto other options?
The Mets certainly have other choices already in-house. In the current bullpen, AJ Ramos is a cheaper alternative. He also hits the free agent market this offseason. However, Ramos wouldn't command nearly as much. Robert Gsellman is also making a point that he deserves every opportunity possible to pitch in big innings.
Given this, the Mets have reason to move on from Familia.
We don't yet know what Familia desires in free agency. We won't know either until he parts ways with the Mets. They can avoid this with an extension. If they do, the Mets may always overpay for a guy whose value may be worth more to them than anyone else.
Familia is a great closer, but not a guy I believe the rest of the league views as a top five guy. He saves are shaky at times. Plus, it may hurt how much Terry Collins overused him in 2015 and 2016. Teams are just asking for a dud signing.
Working in Familia's favor is his age. He won't turn 29 until this October, setting him up well for a five-year deal.
As we've seen in recent free agent classes with closers, teams do not hesitate to pay them big money. The Los Angeles Dodgers forked over everything they could to keep Kenley Jansen. The New York Yankees did the same to bring back Aroldis Chapman after trading him to the Chicago Cubs months earlier.
In similar fashion, the Colorado Rockies paid a lot of money to bring in Wade Davis this past offseason.
The message around baseball is clear. Closers deserve to get paid. Unfortunately, I don't think the Mets will do it with Familia and someone else will offer him a better deal.
For those curious where I see Familia pitching in 2019, look at the Minnesota Twins as potential suitors. They already have the older version of Familia, Fernando Rodney. They aren't afraid of eccentric.