New York Mets News
New York Mets: Four players who will not return in 2019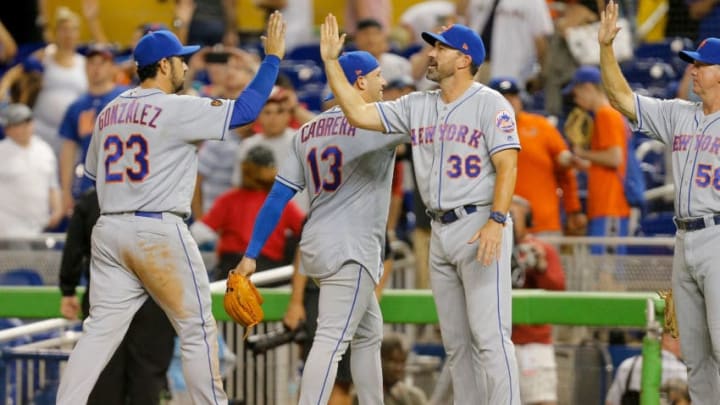 MIAMI, FL - APRIL 09: Adrian Gonzalez
Mets
A few years ago, Matt Harvey looked like a candidate to have his arbitration years and then some bought up by the Mets. Thank goodness the Mets never did. Harvey hasn't been the same for a few seasons already.
During the most recent offseason, Harvey was viewed as a non-tender candidate. Mickey Callaway and Dave Eiland stuck up for him, giving Harvey one last chance to prove he can deliver. It may have been a mistake as he's now in the bullpen.
The verdict is still out on Harvey, but 11 members of the jury seem convinced that he's guilty of not returning to the Mets rotation in 2019. He has the rest of the year to prove to the Mets and everyone else he belongs in a big league rotation. Unfortunately for his biggest fans in New York, this won't help keep him around.
If Harvey somehow turns things around, he will earn himself a nice fat contract in free agency. This is the last year of arbitration for the Dark Knight before he leaves the Justice League at Citi Field. If he pitches poorly, the Mets have no reason to bring him back. Based on what we've seen in the early part of the year, the latter is the direction they go.
It's a catch-22 situation. Barring some kind of significant injury to multiple Mets starting pitchers, there's no fit. The Mets have far better options for the rotation at a fraction of the cost.
Many Mets fans cannot wait to see Harvey leave. Lucky for them, there's a chance he doesn't even finish this season with them. Depending on what he does in relief, the Mets may end up in a situation where Harvey gets released.
I don't see the Mets doing something so drastic this soon. However, as the year goes on and things grow more sour with Harvey, don't wake up shocked to find him on the unemployment line.