New York Mets News
New York Mets: Four players who will not return in 2019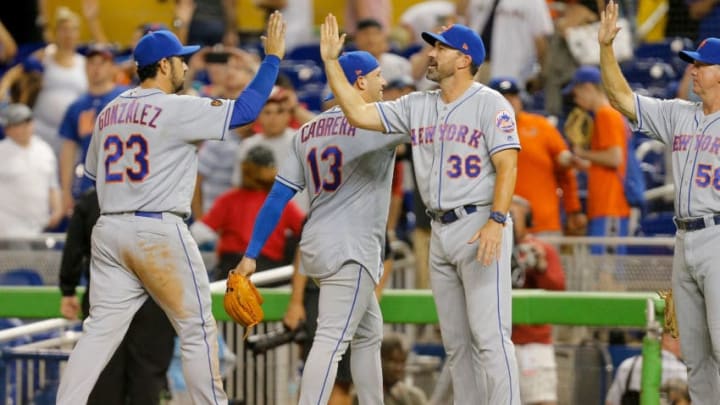 MIAMI, FL - APRIL 09: Adrian Gonzalez
Mets
Several key members of the 2018 New York Mets won't return in 2019. Which ones are definitely headed elsewhere?
Not every baseball player can survive with the same team each year. In the case of the New York Mets, there are many members of this 2018 roster who won't return in 2019.
The Mets have plenty of free agents at the end of the season to consider. They also have a few guys who could get traded or even designated for assignment.
As with any sport, jobs on the Mets are limited. These four players on the 2018 Mets are the ones I don't see returning in 2019.
Beginning with one of the more obvious decisions, it's not likely the Mets keep first baseman Adrian Gonzalez around for long. He's a piece of a scotch top you put on a leaking faucet until you can sort through the junk drawer for a real solution. Or maybe he's a bit better, but not a real solution.
Thankfully, they have two notable first base prospects in the minor leagues nearing a stay in MLB. Dominic Smith and Peter Alonso have a chance to do terrific things at the MLB level. Before they can, the Mets need to part ways with Gonzalez.
Gonzalez's age is the biggest reason why the Mets will move on from him. Even if he produces well for them in 2018, he's at best trying out for a DH job in 2019. I can see him sticking around for another year in the American League in a limited role. For the Mets, this means a one-and-done season.
It's far too early to tell how much Gonzalez has left in the tank. For all we know, he stumbled into the Fountain of Youth this morning and will play for another decade. As unlikely as it is, far more broken players have lasted longer than him.
Defensive limitations, a bad body, and an inevitable decline all work against Gonzalez as he tries to find a new job in 2018. He may always retire on his own, possibly ending his career on a high-note with the Mets in 2018.
If the Mets shock the world and win a World Series, Gonzalez may have every reason to ride off into the sunset on a positive note.