New York Mets News
Mets: Matt Harvey to start on Wednesday with Zack Wheeler in relief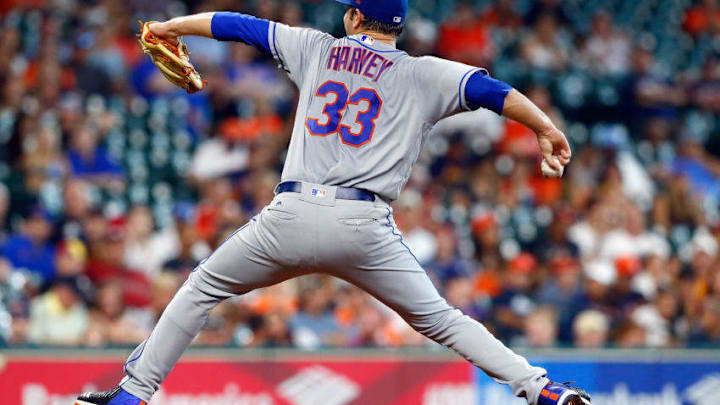 HOUSTON, TX - SEPTEMBER 02: Matt Harvey
Matt Harvey's road to redemption begins on Wednesday against the Atlanta Braves.
Matt Harvey will be taking the mound for the first time this spring on Wednesday. The former Dark Knight will be facing the Atlanta Braves in a 1:05 p.m. contest, Mets manager Mickey Callaway told the media on Monday afternoon.
Harvey will be looking to put his extremely disappointing 2017 campaign behind him as soon as possible. He made his return last year after undergoing surgery to treat Thoracic Outlet Syndrome in 2016, and he just didn't have it.
Harvey's fastball speed wasn't there, location was all over the place, and he ultimately got roughed up more often than not, prompting the Mets to shut him down early.
The hope is with a full offseason of rest, and new pitching coach Dave Eiland at the helm, Harvey can at least recuperate some of what he lost. Specially because he'll be a free agent at the end of this season.
Harvey won't be the only Mets pitcher that looking for a rotation spot to pitch on Wednesday. Zack Wheeler will be making his second appearance of the spring right after him.
Wheeler pitched in the Mets' first Spring Training game on Friday. Since Callaway and company have said that Wheeler is a starter, having him take the mound on the fifth day after he's pitched makes sense.
After only pitching one frame on Friday, it'll be interesting to see how Wheeler reacts in another brief outing. He allowed a single and struck out two batters in that inning. He kept the ball in the zone and looked pretty comfortable out there, which was a great thing to see.
Next: Syndergaard dazzles in spring debut
This Mets season rests on the ability of the team's pitchers to not only stay healthy, but pitch well. So far, none of the four starters to take the mound (Wheeler, Seth Lugo, Robert Gsellman, and Noah Syndergaard) have allowed a single run. Again, it's super early, and it's been an extremely small sample size, but it's still great to see. Let's hope they keep it up.