New York Mets News
Mets: Travis Shaw could be a third base option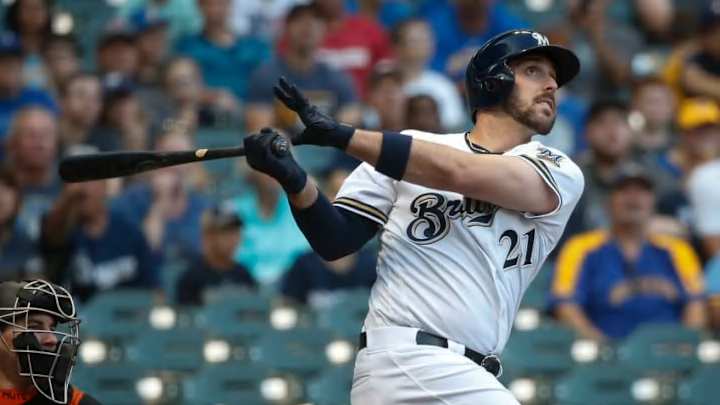 MILWAUKEE, WI - SEPTEMBER 16: Travis Shaw
It was reported this morning that the Brewers could be trading third baseman Travis Shaw if they happen to land Mike Moustakas.
This is fantastic news if the Mets can make it happen. Especially since we're still angrily scratching our heads over the Adrian Gonzalez, "low risk, zero reward" signing.
Personally, I'm a fan of Shaw's. He's an excellent fit for the Mets in the hot corner. Last season he finished the year with a line of .273/.349/.513. Not to mention, a beautiful OPS of .862. At 27 years old, his stats are all treading in the right direction. Shaw lead the Brewers last season with the most wRC at 94. That's right, even more than Eric Thames. Just imagine having that number in the Mets lineup along with our other top three wRC guys. Michael Conforto with 80, Asdrubal Cabrera with 74, and Jay Bruce with 67. Shaw would fit perfectly, and make the Mets lineup just a little more deadly on offense.
I know Mets fans would love to sign Moustakas. But I think Shaw might end up being the better deal here. He has both a higher OBP and OPS that Moustakas last season, and is two years his junior. Shaw's fielding percentage at third base is even slightly higher than Moustakas's at .975.
If worse comes to worse, and A-Gon is haunted by his back injury again, Shaw is also known to play a bit of first base as well. He played 50 games at first in 2016 for the Red Sox and put up a 1.000 fielding percentage there. (Of course, I am, and forever will be, all about Dominic Smith winning that position in Spring Training.)
Who goes to the Crew?
What would the Mets have to give away for him? Well, since they're currently in the hunt for Arietta as well, they may look to add just one more pitcher if they don't manage to sign him. Seth Lugo or Robert Gsellman would be ideal here. And then, of course, there's always the possibility of putting Juan Lagares on the trading block, since he has some defensive value.
Next: Mets sign first baseman Adrian Gonzalez
The Mets probably can't afford to sign Moustakas given what they've done so far. But you can bet that now I'm hoping the Brewers can.