New York Mets News
Mets: Rey Ordóñez turns 47 and reminds us of 1999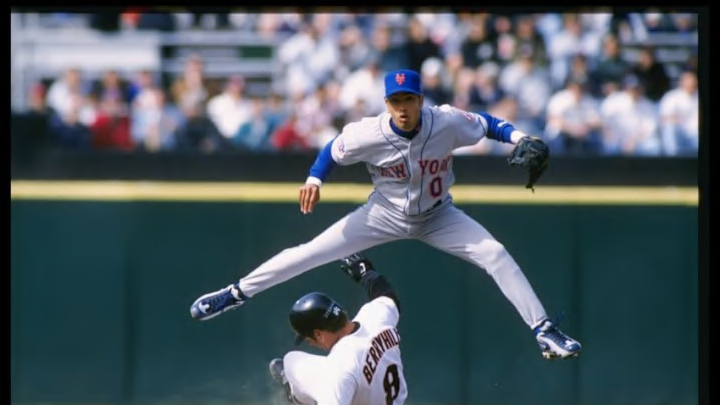 5 Apr 1997: Outfielder Damon Berryhill of the San Francisco Giants slides into the base as second baseman Rey Ordonez of the New York Mets throws the ball during a game at 3Comm Park in San Francisco, California. The Giants won the game 2-0. Mandatory C
Best. Infield. Ever.
It's the three words that always come to mind when you think about Rey Ordóñez. Celebrating his 47th birthday today, and we're ready to party like it's 1999. I, like most Mets fans, have such fond memories of the 99 season. At 9 years old, it was my second full season following Mets baseball, and my first year playing softball. I picked Robin Ventura's number 4 to wear that year and was completely enamored with the skill of that infield. Even though I chose Ventura's number, I was a shortstop. A shortstop who wanted to play just like Rey Ordóñez. Remember what a gem this was?
Or how about this beauty?
And those aren't even from the 99 season. Buster Olney of ESPN previously ranked that 99 infield as the third best of all time. The 1999 Mets only allowed 20 unearned runs against them for the season. One of the lowest numbers since 1912. If there was ever an issue Mets fans had with Ordóñez, it was that his offensive abilities never seemed to align with his defensive skill. But looking back, it's a bit easier to overlook when you're making some of those plays shown above.
How can we not be nostalgic? Especially at a time when the Mets are still on the hunt for that key piece at second. With Amed Rosario and Dominic Smith set to make their full-season debuts next year, you can't help but feel that maybe the Mets have the potential to start building another stellar infield. Sure, there are still a lot of "what ifs" out there. Picking up a good defensive second baseman before the spring is next on their list. As well as, seeing if Dominic Smith has improved at first as much as we hope he will.
Next: Mets should be targeting a player with a higher OBP
But for the time being, let's just enjoy and celebrate the three-time gold glover. As an added bonus, you can rock out to The Isotopes "Ramonesesque" jam about Ordóñez in the background while watching all his highlights: