Mets Rumors
Mets Rumors: Jason Kipnis or Josh Harrison?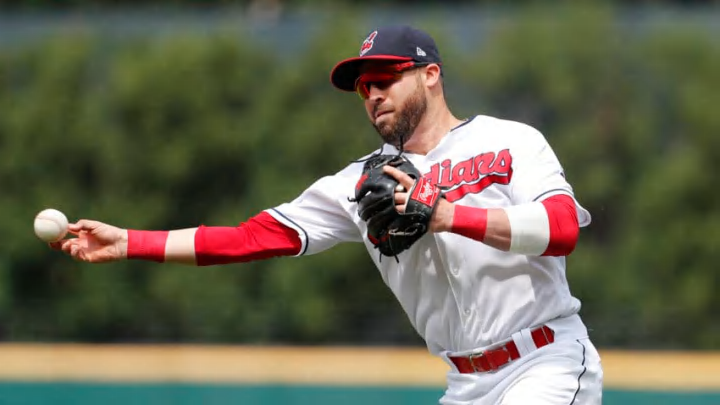 CLEVELAND, OH - AUGUST 09: Jason Kipnis /
It's the most wonderful time of the year! Winter Meetings!
The winter meetings kick off tonight in Orlando, and the Mets may have their eye on another second base option. That's the latest rumor floating around at least according to Mark Carig:
I would love to see the Mets follow through with that trade. Aside from Dee Gordon, Kipnis would be another excellent option at second for the Mets. And he's far more preferable there than if the Mets picked up Ian Kinsler. Kip is five years younger than Kinsler, and despite having a dip in his batting average this season, his OPS was still .705 with 39 wRC. Ranking in the top 10 of the Tribe's lineup in wRC. Kipnis has the potential to be a .275 hitter but only managed .232 this year. Which means maybe the Mets can swing him for a bit of a bargain.
Josh Harrison would be another great acquisition. Of the names we've heard so far, he and Kipnis both look like the preferable options. Harrison is coming off a far better year than Kipnis. Hitting .272 with an OPS of .771. However, according to MLB trade rumors, Harrison is also coming off of a broken finger injury that ended his 2017 season. Which makes him even more ideal for the Mets because the phrase "low risk" had been thrown around. At this point, that phrase should just be embroidered on their uniforms.
My snarky remarks aside, Harrison could turn into a great Neil Walker type for the Mets should they chose to go after him this winter. Another bonus? Harrison can also play third base. So should they chose to move things around a bit and give Asdrubal Cabrera some days off, Harrison is more than capable of playing the hot corner.
Next: Giancarlo Stanton traded to the Yankees
Winter Meetings are like the wild west of baseball. We have all certain expectations going in, and then things come as a surprise. Trades we sometimes would have never expected come out of nowhere. Usually, for the better. Most of the time for the Mets, they're trades we did not want. Regardless it's going to be an exciting next few days.