Mets will reportedly tender Matt Harvey a contract for 2018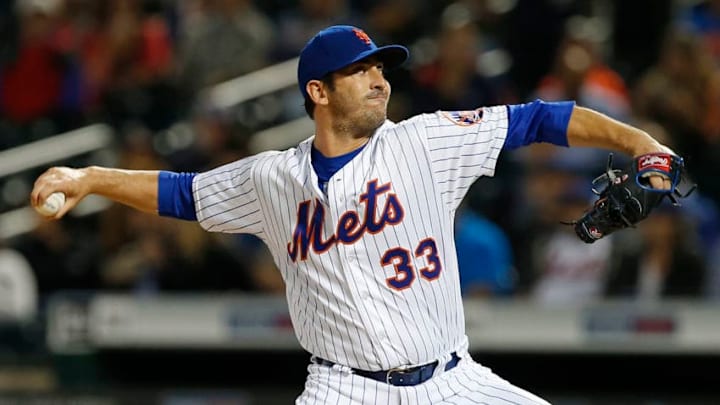 Harvey is slated to enter his final year of arbitration eligibility this winter after an injury plagued season
Matt Harvey has endured a painful year after recovering from thoracic outlet syndrome surgery. However, the Mets are reportedly going to tender Harvey a contract in the off-season. That quiets any speculation he could have been non-tendered in his final year of arbitration eligibility.
The numbers aren't pretty to say the least. Harvey has registered a 6.14 ERA in 16 starts with 60 strikeouts and 40 walks in 80.2 innings. He has allowed 17 home runs and has put up career worsts in WHIP, walks per nine, and home runs per nine innings.
Injuries have derailed Harvey's career, which once showed a lot of promise when he finished fourth in the Cy Young voting in 2013, his first full season. Tommy John surgery took Harvey out for 2014, but he put forth a strong campaign upon return as part of a Mets squad that went to the World Series. In the last two years, Harvey's fastball has declined from an average of 95.9 MPH two years ago to 93.8 this season.
Start-by-start numbers bear out the fact that Harvey's stuff doesn't induce many swings and misses anymore. In three starts since returning from injury, Harvey has recorded 13 swinging strikes (5.6 percent).  Over the season, Harvey's swinging strike percentage sits at 7.7. Previously, Harvey was consistently between 10 and 12 percent.
TOS surgery has proven tricky for many major leaguers and Harvey is the latest of the bunch. He's had to adjust to decreased velocity, which has been no easy task. Harvey has four quality starts this year and three of them came in the first month of the season. Formerly a solid strikeout pitcher, Harvey's game high for strikeouts in 2017 is six.
At 28, Harvey should theoretically have some years left. The wear and tear on his body may suggest otherwise and it's caused him to refine his approach on the mound with lesser stuff than he's used to. Still, the Mets are holding out hope in Harvey, who is free agent eligible after 2018. Next year couldn't get any bigger for the Connecticut native.
Next: Syndergaard could pitch against Atlanta
Harvey will certainly be out to prove that he will put the pieces together, which may take a little re-inventing. The Mets are giving him that opportunity at whatever he'll be paid in arbitration, and it will certainly be one of the more closely watched story lines for the 2018 squad.