Mets 2018 regular season schedule released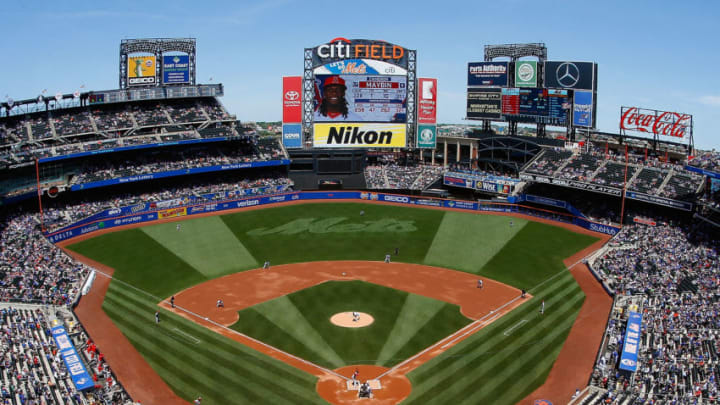 NEW YORK, NY - MAY 21: A general view as Tommy Milone /
Mets will open the season along with the rest of the league on March 29
We know all you Mets fans are looking forward to the 2018 season already. Major League Baseball introduced the 2018 schedule, which opens with all 30 teams playing on March 29. The Mets will open at home against St. Louis.
Excluding games played internationally, the March 29 start will be the earliest a season has started. Under the new collective bargaining agreement, there will be more off days and a shorter spring training. The whole league will open the season on the same day for the first time since 1968 when then, all 20 teams, opened the year. Hopefully for us, things will go better than in '68 when they had the third-worst record in the league at 73-89.
Could the Amazin's welcome Lucas Duda to Citi Field once again? Duda as you all know, was shipped to Tampa Bay in the midst of a contract year. If he re-signs with the Rays, then he'll be back at Citi Field from July 6-8. The Mets will also play the AL East in interleague action.
New York will have two home and road games against Baltimore and Toronto. The Subway Series will feature six games. The Mets will host the Yankees from June 8-10, then make the short trip to Yankee Stadium on July 20-22. The team will then travel to Boston for their last non-divisional series of the season in mid-September.
The season series against the Cardinals will end early. As mentioned earlier, the two teams will open their respective campaigns against each other at Citi. St. Louis will host the Mets at Busch Stadium for three games in late April.
The longest road trip will encompass 10 games on two occasions. Beginning on April 19, the Mets will travel to Atlanta, St. Louis and San Diego. In June when the team travels to Atlanta, Arizona, and Colorado. By contrast, the longest homestand of the year follows when they host Tampa Bay, Philadelphia, and Washington as part of a 10-game homestand leading into the all-star break.
Next: Rafael Montero, the man of a thousand chances
The 2018 season will wrap up for the Mets with six home games. The Mets will host Atlanta in their penultimate series, then close the 162-game slate in Miami. The final day of the regular season will be Sunday, September 30.