New York Mets News
Mets rookie Chris Flexen endures through rocky MLB debut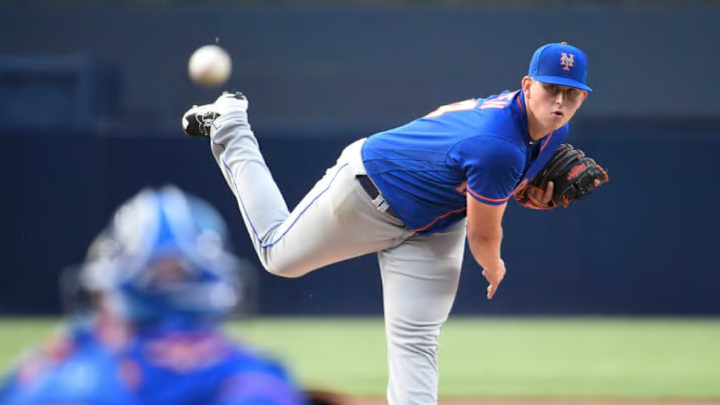 SAN DIEGO, CA - JULY 27: Chris Flexen
Chris Flexen advanced through the ranks rapidly and made his first MLB start on Thursday, but the rookie only lasted three innings
Chris Flexen's major league debut started on a wild note, and didn't get much better. The 23-year old got the ball against the Padres in the series finale, but only logged three innings while allowing four runs (three earned). Flexen allowed four walks and hit a batter while striking out two. He threw 44 of his 69 pitches for strikes.
Chalk it up to a learning experience for Flexen for whom it may have been too much, too soon. We are talking about a player who was outside of the top 20 in the Mets' prospect organization rankings before the season started. We're also talking about someone who advanced three levels and skipped the third on his way here.
Flexen no doubt, earned the opportunity considering there were no other viable options either in New York or Las Vegas. He has taken the minor leagues by storm in his best professional season so far. When Flexen stepped on the mound in Petco Park, there seemed to be a lot of nerves. As a result, he had trouble keeping pitches down.
His curveball wasn't really snapping. It got hit for a home run by Manuel Margot to lead off the first. Flexen also lost a little velocity on his fastball after starting out at 93-94. He was more down to 91-92 in the third inning.
The Padres put Flexen in trouble from the jump. However, two plays at the plate limited the damage in the first inning to just the Margot homer. The bases were loaded with no outs in the second and Margot struck again two batters later. A double and an error combined to plate three runs. Flexen navigated a scoreless third by inducing a double play ball from Luis Torrens.
Next: Walker and Nimmo to return, no Smith yet
Even though Flexen didn't last long in the game, we got to see an instance of him fielding his position and trying to find his control. Overall, it was a rough opening, but Flexen has still advanced through the ranks quicker than most would have thought.