New York Mets News
Mets: Yoenis Cespedes will change offseason workout program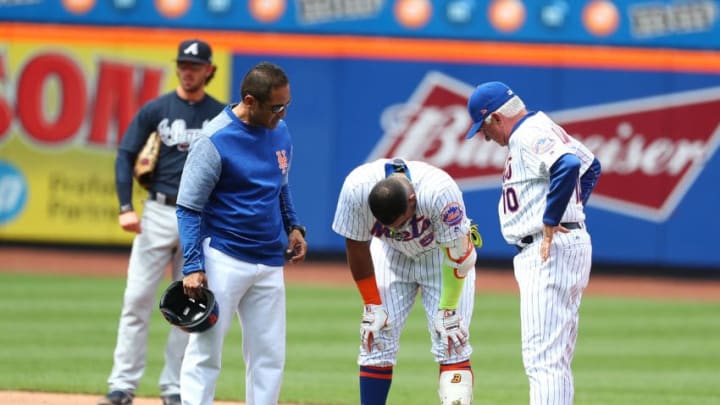 NEW YORK, NY - APRIL 27: Yoenis Cespedes
Turns out bulking up in the offseason isn't the best idea when your goal is to play 162 games in a year
Mets outfielder Yoenis Cespedes has been dealing with leg issues all season. He ended up on the disabled list back at the end of April with a pulled left hamstring that saw him sidelined for over 6 weeks while the Mets struggled to win games.
Since then, every time Cespedes has hustled around the bases or out on the field, Mets fans around the country have held their collective breaths hoping he doesn't hurt himself again. It's been odd seeing someone so strong be perceived as fragile, but that's what Yo looks like at this point in 2017.
He's looking to change that, however, this offseason. His previous workout regimen has obviously not worked. His numbers are down across the board this season aside from his health issues, so Cespedes is going back to the drawing board.
He told The New York Post after Wednesday night's loss in San Diego that he'll be switching things up when the regular season is.
""My plan is to change my workout program,'' Cespedes said. "I want to become more flexible, more athletic, have less bulk [in my legs]. I want to do less weight lifting. I'm going to do some different things, I want to do yoga, more stretching. I want to be lighter. I want to come back around 210, lose about 15 pounds.''"
Cespedes is looking to alter the mentality that drove his offseason last year. The idea that bulking up and getting stronger would improve his performance has been debunked, and it's obvious that it hasn't just been an issue for Yo.
The other prominent Mets star, Noah Syndergaard, also got bigger and stronger before the year started, and we see what good that did him. He's currently still on the disabled list, and has been there since the end of April as well. The breakdown of both of these incredible athletes should really be used as an example for every team in the league going forward.
Next: Chris Flexen ready for his debut
Mets players have been working with strength coach Mike Barwis in the offseason, so they'll have to figure out a different routine going forward to prevent such a disastrous injury-plagued season from occurring again. Cespedes and Syndergaard have thankfully learned their lesson. Hopefully it stays that way for the next few years.