New York Mets News
Mets win, thanks to major league and little league homers from Cespedes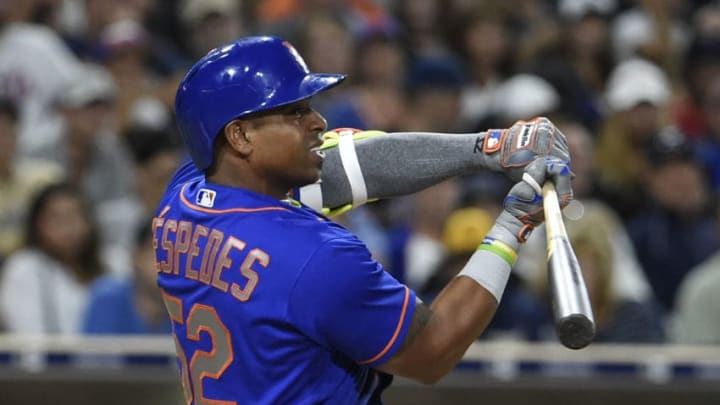 SAN DIEGO, CA - JULY 25: Yoenis Cespedes /
Well, it looks like Yoenis Cespedes has woken up for the Mets
Many of you tweeted at both Rising Apple and me asking why we had not given Yoenis Cespedes a hard time for his performance as of recently. I know, I know, he has not been playing like himself. The NY Times even referred to him as "the slumping Mets slugger."
Well, did last night's game change your minds? Or at least start to? Cespedes looked like the Cespedes we all knew, loved, and the one that got us to the playoffs in 2015.
While many of us were sleeping Tuesday night (or, I should say, many of us struggling to stay awake to watch the game), Cespedes gave everyone a little excitement.
Not only did he hit a Yo bomb in his first at-bat of the game, he hit a little league home run in the seventh inning. What makes this even more special? The Mets and the Padres were tied 4-4. Cespedes gave the Mets the lead, and led them to a win.
How'd this happen? On a check swing. Yes, that's right, Cespedes somehow connected on a check swing, the ball dropping down the right field line, and Cespdes booked it to third. A wild throw by Padres' first baseman Wil Myers is how Cespedes then scored, sliding safely into home.
Didn't see it? Watch for yourself:
Well, that's quite pretty.
What did Cespedes have to say about all this? "I really wanted to hold the swing back, but I couldn't." With this result, we're really glad you didn't.
The downside though? Cespedes was removed from the game as a precaution, according to Terry Collins. His quadriceps had "tightened up." Cespedes is expected to be re-evaluated on Wednesday, but in true Cespedes fashion he is downplaying everything and says that it's not serious.
We've all heard that before though, haven't we?
Next: Familia close to throwing off mound
It makes sense that Collins would take Cespedes out in yesterday's game after all this, especially with his injury track record this season. His legs continue to be a problem, and Collins didn't want to chance anything worse happening. Let's hope that the results from his re-evaluation come back good. Cespedes is finally getting hot, and we don't want anything ruining this.