Mets second baseman Neil Walker runs bases as he eyes his return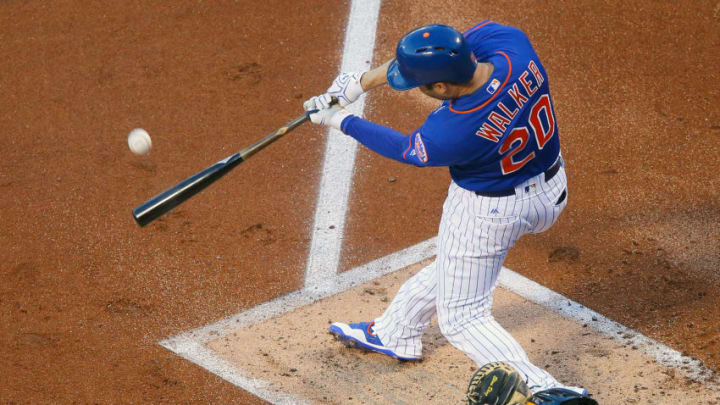 NEW YORK, NY - JUNE 03: Neil Walker /
It's been a little over a month, but Neil Walker is running on his injured left hamstring, and so far it looks good for the Mets second baseman. He ran the bases at Citi Field on Monday afternoon before the Mets opening game of their series against the St. Louis Cardinals.
This is the first time Walker runs without needing to hold back since he suffered that ugly injury running down the first baseline.
Since being without Walker, the Mets have gone 11-14 in the 25 games he's missed thus far. It doesn't help the fact that he was one of the better offensive weapons in the month of May and going into mid-June either.
In over 220 at bats this season, Walker has hit 9 home runs, 13 doubles, and driven in 33 base runners. He's kept his average at his typical career mark batting .270 with a .352 on-base percentage and .468 slugging percentage.
In his absence, the Mets have made a couple of decisions as to whom would play. They've given T.J. Rivera a shot, but ultimately decided to move Asdrubal Cabrera over to the right side of the infield and have him fill in while Walker is out.
Jose Reyes would subsequently move to shortstop, and T.J. Rivera – who has been hitting the snot out of the ball – would end up making third base his permanent home for the time being.
It'll be interesting to see what manager Terry Collins does once Walker is ready to return. Does he put Cabrera back at shortstop with Reyes at third and bump a hot Rivera, or does he simply replace Asdrubal at second and keep things the way they are currently on the left side of the infield?
Next: T.J. Rivera and Asdrubal Cabrera garnering interest from Red Sox
Reyes' bat has been hot lately, and we've seen how TC likes to play him regardless of how well he's hitting so odds are he won't be going anywhere. Either way, a decision will have to be made in the next week or so. Stay tuned.