Mets fans, what would your walk-up song be? Here are ours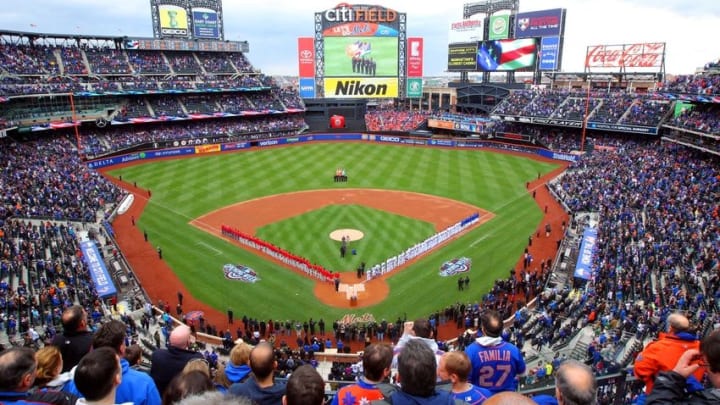 Apr 8, 2016; New York City, NY, USA; General view during the national anthem before a game between the New York Mets and the Philadelphia Phillies at Citi Field. Mandatory Credit: Brad Penner-USA TODAY Sports /
Feb 28, 2016; Hollywood, CA, USA; Dave Grohl performs the Beatles song 'Blackbird' during the In Memoriam segment of the 88th annual Academy Awards at the Dolby Theatre. Mandatory Credit: Robert Deutsch-USA TODAY NETWORK /
Vincent Perricone, Staff Writer
We all have that dream of our self-standing on the on-deck circle. We watch the opposing pitcher work on the hitter, all while we're standing there taking practice swings and applying pine tar to our bat.
You hear the ump let out a yelp — "STRIIIIIKE THREE!" — and now it's our turn to walk up to the plate and dig in.
But while we're walking up there to get going, what song is playing in the background? I've always been a lover of rock music. Classic rock to be exact. I've always wanted an intimidating song to be blasting out of the sound system, but it had to be one I like.
I always wanted "Welcome to the Jungle," especially if I were a closer. Picture running out to the mound to open the ninth inning to Slash just wailing on the guitar. I don't know if the other team would be intimidated or headbanging.
I've put a lot of thought into this, obviously, and would coordinate my song to who I played for. The Dodgers? "Hotel California." The Giants? Journey's "Lights."
But the one song I'd pick to walk up to, no matter where I played? I'd pick "Smells Like Teen Spirit" by Nirvana.
No matter the situation, or location, it's one of the greatest songs ever and one of my favorites. Try striking me out when you're too busy jamming out on the mound to that, opposing pitcher.