Mets fans, what would your walk-up song be? Here are ours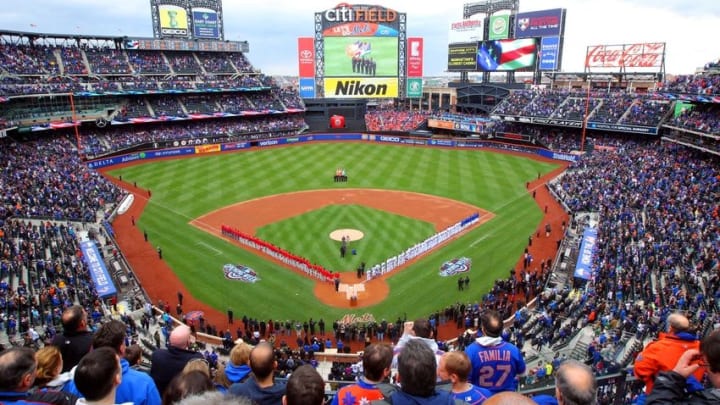 Apr 8, 2016; New York City, NY, USA; General view during the national anthem before a game between the New York Mets and the Philadelphia Phillies at Citi Field. Mandatory Credit: Brad Penner-USA TODAY Sports /
August 15, 2015; Los Angeles, CA, USA; The time vehicle from the film Back to the Future is rolled out onto the field before the Los Angeles Dodgers play against the Cincinnati Reds at Dodger Stadium. Mandatory Credit: Gary A. Vasquez-USA TODAY Sports /
Michael Lecolant, Staff Writer
Generation X Alert!
Go crank up your dad's DeLorean, because I'm taking you back.
By the time walk-up songs became standard operating procedure at ballparks, I already knew what mine would be.
Before MTV, VH1, and anything else of cable-TV kind, there was something called Don Kirshner's Rock Concert.  It was a live performance show that also featured videos before videos became … videos as we know them today.  The show aired locally (NYC) on Saturday nights after 1:00am, after WWWF wrestling (now WWE).
I was probably 12-years old or so when I first heard this…Children of the Grave (Remastered Version)
I would let that play (loudly) and have it fade out just before the vocals kick in.
In truth, this isn't even among my top five favorite songs from that band.  But if there's a tune that inspires me to pick up a baseball bat and hit something, this would be it.  I find it an appropriately aggressive little composition, perhaps something akin to taking a mental steroid just before entering the batter's box.
And, I know it works.
I knew I was on to something when my softball team started playing walk-up music for fun.  We all brought our own cassettes to the game and would have someone in the dugout (usually someone's girlfriend) toss them in the boom box for us.
Guys would change their tapes from game to game, and many selections would have us laughing to tears.
Me?  I enjoyed walking up to this song most of all.  On a serious note, the beat helped clear my mind, quite literally, of everything.  
Overthinking does not make for good at-bats.
Now, from Generation X to..