Mets fans, what would your walk-up song be? Here are ours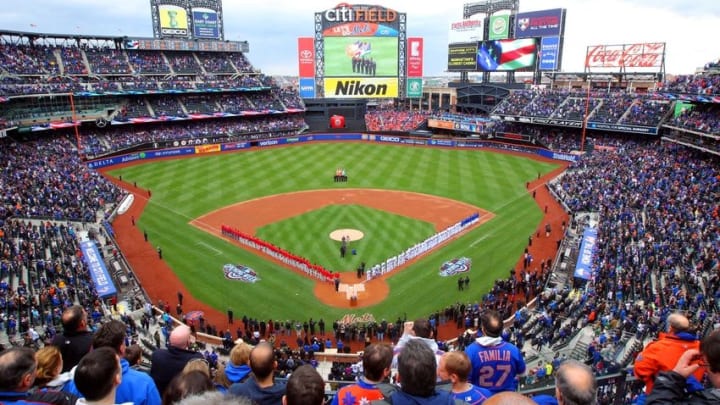 Apr 8, 2016; New York City, NY, USA; General view during the national anthem before a game between the New York Mets and the Philadelphia Phillies at Citi Field. Mandatory Credit: Brad Penner-USA TODAY Sports /
Jan 27, 2017; Toronto, Ontario, CAN; Fans show their support with a flag of Greece before a game between the Milwaukee Bucks and the Toronto Raptors at Air Canada Centre. The Toronto Raptors won 102-86. Mandatory Credit: Nick Turchiaro-USA TODAY Sports /
Michelle Ioannou, Editor
There are three things in my life you don't mess with: my family, my culture, and my love of the Mets.
Well, my walk-up song would convey all of this…by showing off my culture (and making my family proud). Yes, if you don't know by now I'm Greek. Not only that, I'm your stereotypical Greek — one of those loud, proud ones that shows up to Citi Field every time that the Greek National Soccer team is playing and one that can say that she Greek danced on the field of Shea Stadium on Greek night many moons ago.
Now what does being Greek have to do with all of this? Well, my at-bat song would have to be Zorba the Greek. No ifs, ands, or buts about it. It actually kills me that there are Greek baseball players currently in the majors (yes, Nick Markakis and George Kontas, I'm looking at you) who haven't used Zorba the Greek as their song yet — come on!
Why Zorba? Well I'd love to do a Greek pop song, but unfortunately, I think most people would recognize and enjoy some Zorba a bit more…and of course as I step up to the plate I want the fans up dancing along. I want to show my love for my culture and share it with everyone else. And of course, I want my 88 year-old Mets fan grandfather to enjoy it as well.
Plus, with that song playing, I'd be sure to blast a bomb all the way to Greece (corny, sorry, but I had to).
Now we go from myself to….