Mets Rumors
Mets still looking at trade possibilities for center field next season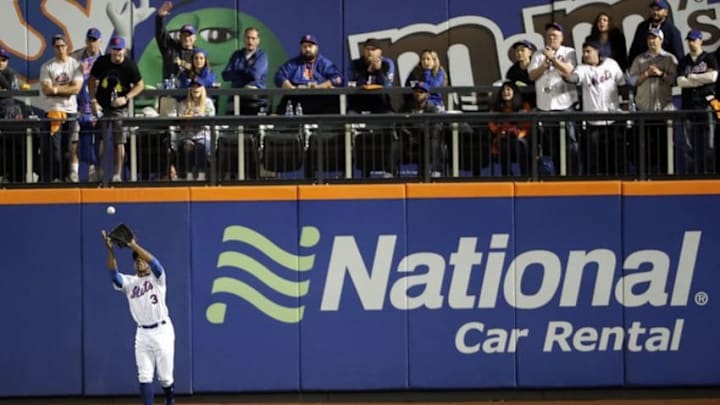 Oct 5, 2016; New York City, NY, USA; New York Mets center fielder Curtis Granderson (3) catches a fly ball during the fifth inning against the San Francisco Giants in the National League wild card playoff baseball game at Citi Field. Mandatory Credit: Anthony Gruppuso-USA TODAY Sports
The Mets are still sorting out their outfield situation, and the biggest question mark continues to be center field.
The Mets have been trying to figure out how their outfield will be set up next season for quite some time now. Currently, the team has one outfield position completely locked down: left field. After signing Yoenis Cespedes to a four-year deal, left field will be his until at least 2020. As far as right field is concerned, the Mets have Curtis Granderson, Jay Bruce and Michael Conforto as all viable options. Center field is unfortunately a different beast.
While the organization has no problem with Curtis Granderson manning center, it's not ideally their preferred arrangement. Juan Lagares is, of course, another option and is definitely the best defensive outfielder of the bunch, but his offensive production hasn't justified him starting over anyone else. The center field post will be filled by someone, but that player may still not be on the Mets' roster today.
According to a new report from Fox Sports' Ken Rosenthal, the Mets still have not given up on looking for outside help to fill in this void. The team has spoken to the Pittsburgh Pirates about their center fielder Andrew McCutchen but according to the report it hasn't gone beyond just that – talks. McCutchen is in the final year of his deal with the Pirates who are trying to move him this offseason.
The Mets 2015 World Series rivals are also another team that could offer a piece. Rosenthal says that both Kansas City pending free agents and center fielders, Lorenzo Cain and Jarrod Dyson, spoke with the Mets, but interest wasn't completely there from Sandy Alderson either.
Another team has kept its name in the mix has been the Toronto Blue Jays. They were one of the first teams we heard was interested in Jay Bruce, but up until this point nothing has materialized.
While the team will surely continue to look to move pieces, fans shouldn't expect a deal of the magnitude that's needed to get done. The Mets not only need a true center fielder, they need to get rid of two right fielders as well. They've struggled to trade both Jay Bruce and Curtis Granderson so far, and in order to bag a brand new outfielder, it's likely they'd have to deal them both somehow.
Next: Mets Season in Review: Curtis Granderson
Looking at how the Mets roster is shaping up, I'm willing to bet neither of the guys gets dealt, and we instead see an Opening Day lineup featuring Yo in left, Granderson in center and Jay Bruce in right. It may not be what the fans, or the front office want, but sometimes, no deal is better than a bad deal.