Mets in talks with Rangers about Jay Bruce, relievers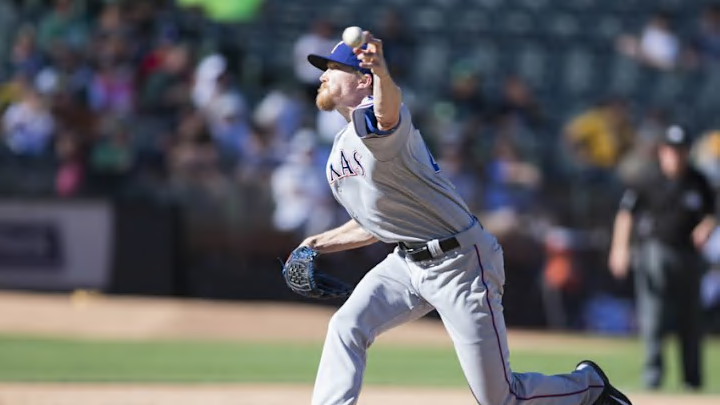 Sep 24, 2016; Oakland, CA, USA; Texas Rangers relief pitcher Jake Diekman (41) delivers a pitch during the ninth inning against the Oakland Athletics at Oakland Coliseum. Mandatory Credit: Neville E. Guard-USA TODAY Sports /
The Mets need bullpen help, and the Rangers need a lefty power bat. Can they make a deal happen?
The Mets are definitely working hard to find the best possible deal out there for a reliever. With the likelihood of Jerry Blevins walking away and taking a pretty expensive multi-year deal with another team, the Amazin's are in search for at least one southpaw to fill the void.
Texas Rangers beat writer, TR Sullivan, shared on Twitter on Wednesday afternoon that New York and the Rangers had met to discuss any potential deal. Sullivan notes what we all know already, the Mets are shopping lefty Jay Bruce and are looking to land a reliever in the exchange.
At first glance, the Texas Rangers wouldn't be the first place most would look to find relief help for next season. Posting 4.40 ERA in 2016 as a collective, the Rangers bullpen was lit (and not in the good way) up multiple times last season. However, that doesn't mean there aren't a couple of parts that could definitely be of service to the Mets. While there are a couple of righties that could look nicely in blue and orange, the focus could also be placed on the two lefties in the Texas bullpen, Jake Diekman, and Alex Claudio.
Diekman is the bigger strikeout guy of the two as he's a hard thrower – his fastball can hit Thor-like numbers. In 53 inning pitched in 2016, Diekman had a 3.40 ERA while striking out 59. He gave up only 36 hits, but was a bit wild surrendering 26 free passes.
Claudio on the other hand is more of a contact pitcher. His 2016 ERA is lower than Diekman's at 2.79 but he only struck out 34 batters while allowing 55 hits in 51 and 2/3 innings pitched. He seems to have more control though, as he only issued 10 walks the entire season.
Next: Mets RHP Zack Wheeler is ready for his 2017 comeback
If the Mets are looking for lefty relievers for next season, the Texas Rangers may end up being an ideal partner. Like with the Orioles though, the Rangers may ask the Mets to eat some of Jay Bruce's contract to get a deal done. Whether Sandy is willing to do that is another question on its own.