New York Mets News
Mets booth's best moments with Gary, Keith, and Ron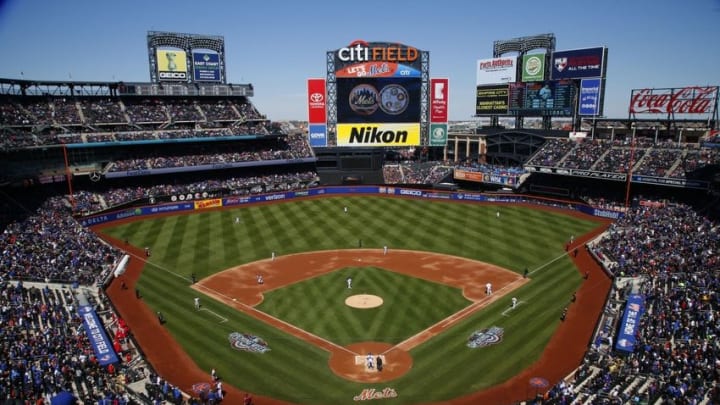 Apr 10, 2016; New York City, NY, USA; New York Mets and Philadelphia Phillies play during the third inning at Citi Field. Mandatory Credit: Noah K. Murray-USA TODAY Sports
The Mets broadcasters are the best in the business
As Mets fans, we may not have the best team in the league year in and year out (these last couple of years not withstanding), but one thing we have been able to continue on every season is the amazing broadcast team SNY has put together. Gary Cohen, Keith Hernandez and Ron Darling (or GKR as most fans like to refer to them) have arguably been the best in the business.
Since 2006, each member of the trio has brought something unique to the table. Every Mets game is different, not only because of the play on the field, but also how the game is called. Whether it's Gary's exquisite play-by-play, a randomly-inserted Keith Hernandez story, or Ron's insightful and frank opinions of the game, they always find a way to keep us entertained. This is why it was so great to find out that SNY and Gary Cohen worked out a new deal to stay on board in the Mets' booth. The trio will stay intact for a little while longer.
To celebrate, I've compiled some of my favorite GKR moments below. There are seriously way too many out there, so I'm obviously going to forget more than a few fan favorites, but nevertheless, these are pretty great.
Bartolo's blast
The 7 Line has already declared May 7th a Mets holiday, and for good reason. Not only was Bartolo Colon's first ever home run an incredible feat, it was accompanied by one of the greatest home run calls I've ever heard Gary or any other announcer make. I don't think I've ever simultaneously gotten chills and laughed as hard as I do when I watch this call.
Gary's hair and beard
Gary Cohen looked a bit different back in his college days, and when the Mets booth got ahold of a picture from that time, they did not let up.
Ron Darling calls out Frank Francisco
While this moment may not really be memorable, it stuck out to me as one of those times that Ron didn't mince his words about the Mets. Even though it's natural to be a bit biased towards the team you're covering on a daily basis, GKR do a pretty excellent job of staying neutral when compared to other broadcast teams. This clip is an example of that as Darling doesn't hold back and labels Mets' pitcher Francisco "a fool" whose dumb decision to hit Werth is only gonna "get one of your players hit." Keep speaking the truth, Ron!
Mets booth holds back tears after the late Jose Fernandez's ceremony
After the unexpected death of Marlins' star Jose Fernandez, the Mets traveled to Miami and we got to watch one of the most emotional pre-game ceremonies ever seen. Afterwards, the booth reflected what every Mets and baseball fan around the world felt as they could barely keep it together when sharing their thoughts.
What is bae?
Kerith Burke's troll of Gary Cohen through Twitter gave us one of my favorite interactions between him and Keith. I don't think they still know what "bae" actually means.
Next: Mets announcer Gary Cohen to stay with SNY
As the end of year starts closing in, and the weather starts getting colder, Mets fans all over the world are missing their sport, their team, and their booth. Mets baseball will be back soon, and thankfully Gary, Keith, and Ron will be back along with them. I personally can't wait to see what both have in store for us next season.