New York Mets News
Mets announcer Gary Cohen to stay with SNY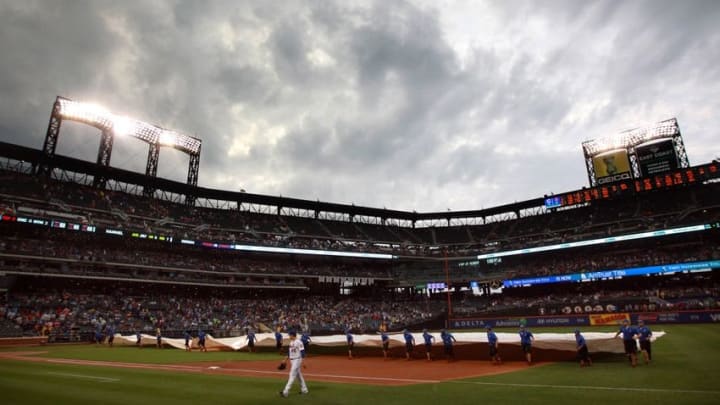 Jul 1, 2016; New York City, NY, USA; New York Mets left fielder Kelly Johnson (55) leaves the field as the tarp is rolled out during a rain delay during the second inning against the Chicago Cubs at Citi Field. Mandatory Credit: Brad Penner-USA TODAY Sports
Our favorite three will not be breaking up!
Could you imagine a Mets game without Gary, Keith, and Ron? Well, yes you can because we've all had to suffer through those games where they were not announcing – but could you imagine an entire season of it? I couldn't, and I don't want to.
According to the NY Daily News, Gary Cohen will be staying with SNY to continue doing Mets play-by-play. He has agreed on a multi-year contract with the network. This upcoming season will be Gary, Keith, and Ron's twelfth season together, and hopefully there's many, many more to come.
I'm quite glad that this agreement happened quickly. If only other agreements happened this quickly (cough, cough I'm looking at you Mets and Yoenis Cespedes).
Anyways, according to sources, the contract negotiations went well, which we could have assumed from the fast turnaround. The source, remained nameless by the Daily News, had the following to say:
""It worked, but in situations like this, you need to let the process play out.""
Well, looks like the process played out quite well.
I remember last year Keith Hernandez's negotiations took a bit longer. In fact as of January 2nd of this year, Keith was still unsigned by SNY. But, as you can all see, everything worked out.
In addition to his new contract, Cohen may be joining Mike Piazza in the Hall of Fame. He has been named one of the finalist for the 2017 Ford C. Frick Award for excellence in broadcasting. In order for Cohen to get his spot in Cooperstown, he will have to beat out Jacques Doucet, Ken Harrelson, Pat Hughes, Bill King, Mike Krukow, Ned Martin, and Dewayne Stats. We hope you win Gary!
Next: Could Yoenis Cespedes land a five-year deal?
We're happy to have you back Gary. I'm sure Mets fans cannot wait to hear what the three of you have in store for us this season.