A look back at Bartolo Colon's greatest Mets moments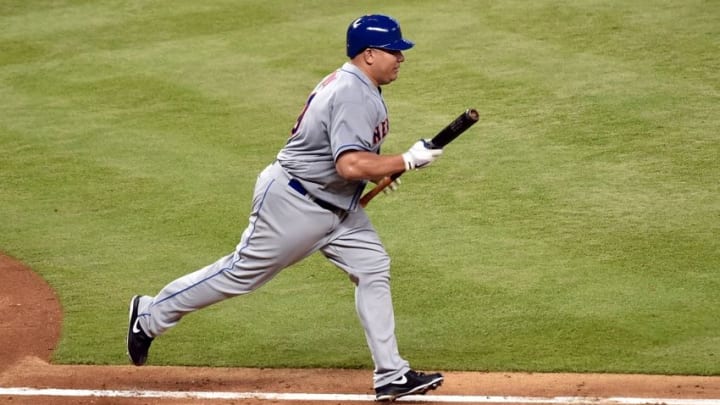 Jun 4, 2016; Miami, FL, USA; New York Mets starting pitcher Bartolo Colon (40) runs down the first baseline after hitting a single during the fifth inning against the Miami Marlins at Marlins Park. Mandatory Credit: Steve Mitchell-USA TODAY Sports /
I am still not okay with any of this, and part of me is very much still in denial. But, what we have now are sweet, sweet memories of Tolo. Here are some of his best with the Mets. Bookmark this page, come to it when you're down, watch it every time the Mets play the Braves — whatever will help you cope.
April 2nd 2014
Colon excites the crowd and himself after breaking his bat
April 8th 2014
Colon celebrated his scoreless start against the Braves (lol) with the infamous gut shake
May 28 2014 
Colon basically loses his helmet and proceeds to carry his bat to first base during his 7th inning plate appearance
June 2nd 2014
Colon's foul ball excites the Mets' bench
June 18th 2014
Colon hit his first career double against the Cardinals
June 29th 2014
Colon swung so hard that his helmet fell off. Then on his next swing he almost lost it again
September 5th 2015
Colon fields a soft grounder and throws it behind-the-back to get Justin Bour out
April 9th 2016
Colon makes a phenomenal over-the-shoulder catch to get Freddy Galvis out. He lost his hat too, which made it that much better
May 7th 2016
Colon hit his first career home run against the Padres' James Shields
Let's follow this up with "The Natural," starring Colon
May 22nd 2016
Colon threw eight shutout innings against the Braves (lol) to give him his 220th career win. With this win, he surpassed Pedro Martinez for second-most wins by a Dominican-born pitcher
August 15th 2016
Colon was walked for the first time ever against the Arizona Diamondbacks, after entering the game with the most career plate appearances for someone who hadn't walked
For more Bartolo love, check out this ode to Bartolo Colon.