New York Mets News
Mets release 2017 schedule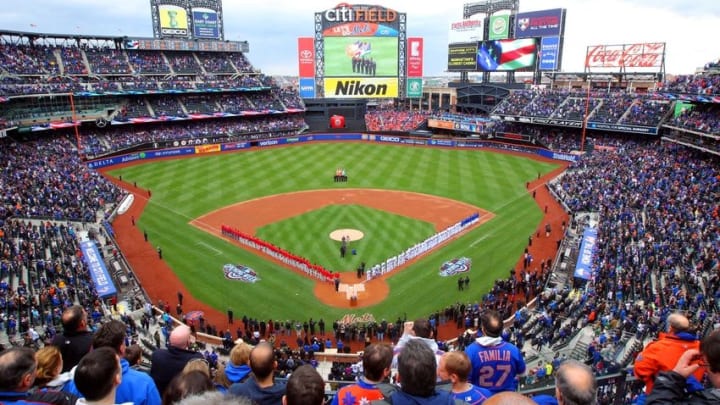 Apr 8, 2016; New York City, NY, USA; General view during the national anthem before a game between the New York Mets and the Philadelphia Phillies at Citi Field. Mandatory Credit: Brad Penner-USA TODAY Sports /
The Mets will open next season on April 3 at Citi Field against the Braves
The Mets have released their full 2017 schedule, which opens with 32 straight games against NL East opponents.
The first non-division opponent will be the Giants, who visit Citi Field from May 8-10.
Other highlights…
The Mets have two 10-game road trips — one in June and another in August.
The All-Star Game will be in Miami on July 11. The Mets end the first half on July 9 against the Cardinals in St. Louis and begin the second half against the Rockies at Citi Field on July 14.
The Mets are home on Memorial Day, Father's Day, and Labor Day.
The Mets and Yankees will play four games from August 14-17, with the first two at Yankee Stadium and next two at Citi Field.
From July 7 through August 9, they don't play any games against NL East opponents.
Aside from the Yankees, the Mets will play the AL West in Interleague action. They host series against the A's (July) and Rangers (August), and travel to Texas to play the Rangers (June), Seattle to play the Mariners (July), and Houston to play the Astros (September).
The season ends with a three-game series against the Phillies in Philadelphia from September 29 – October 1.
Unless the Marlins are a serious threat next season, New York could be poised for a good start, with the majority of their early-season games against the Marlins, Phillies, and Braves.
Next: Backman opens up about departure from Mets organization
Likewise, the last month of the season — where they'll have 13 home games and 15 road games — features 16 games against the Phillies, Reds, and Braves, who should all be non-contenders again in 2017.
The toughest part of the schedule may be a 14-game stretch from June 12-25, when they play the Cubs and Nationals at home before going on the road to face the Dodgers and Giants.