New York Mets News
Mets' David Wright makes Grapefruit League debut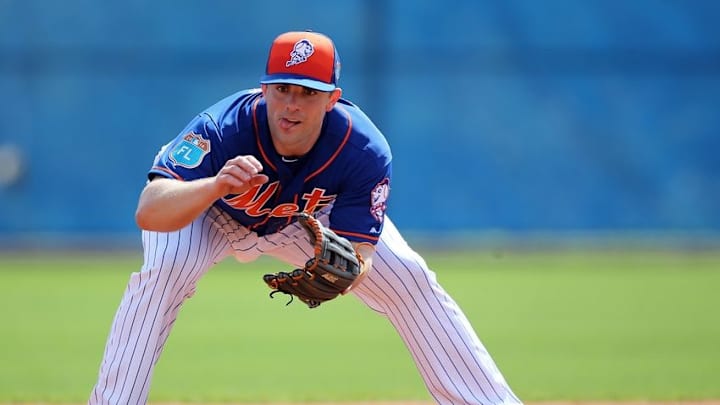 Feb 22, 2016; Port St. Lucie, FL, USA; New York Mets third baseman David Wright (5) takes infield practice during spring training work out drills at Tradition Field. Mandatory Credit: Steve Mitchell-USA TODAY Sports
Wright has been taking things slow this spring as he manages his spinal stenosis
Mets third baseman David Wright made his Grapefruit League debut Friday night, going 2-for-3 while playing five innings in the field.
He lined a single to right field in his first at-bat and singled to left field in his second at-bat. After singling in his second at-bat, Wright scored from first base on Yoenis Cespedes' double. Wright grounded out to shortstop in his third at-bat.
At third base, Wright handled the only ball hit to him — a grounder — flawlessly.
Wright played in a few minor league games earlier this week and has been taking batting practice for most of Spring Training, but he's taken things deliberately slow in order to manage his spinal stenosis.
He has said that he wants to play somewhat regularly between now and Opening Day, and plans to travel with the Mets to their games against the Cubs in Las Vegas in a few weeks that wrap up the Grapefruit League schedule.
---
It seems like the expectations regarding Wright are being dialed back, which is understandable given the chronic nature of his condition. But even while dealing with the spinal stenosis last year, Wright hit .289/.379/.434 with five home runs in 38 games played.
The above line isn't peak-Wright, but if he can match that this season — over roughly 130 games or so — both he and the Mets should be happy.
Next: Rising Apple Report, Ep. 128
While Wright might not have as much power as he used to, with the spinal stenosis likely contributing to that, he should still profile as a plus offensive player. And with tons of support around him in the lineup, that's all he needs to be.
It would be an absolute shame if Wright is unable to be a part of what should be a renaissance of sorts for the Mets. But the signs were good last year after he returned. That just needs to continue in 2016