New York Mets News
Mets gave my brother an experience of a lifetime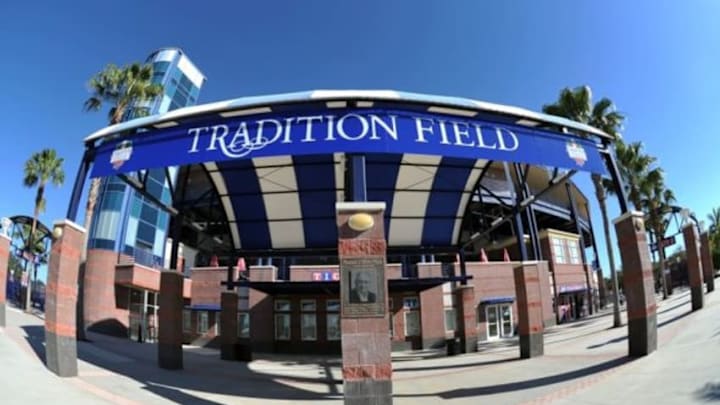 Feb 18, 2014; Port St Lucie, FL, USA; A general view of Tradition Field before spring training practice. Mandatory Credit: Steve Mitchell-USA TODAY Sports /
In 2009 I went to Mets Spring Training all because of The Make-A-Wish Foundation.
My 21-year-old brother Christopher suffers from Duchenne Muscular Dystrophy. For those of you who don't know, it's a progressive disease that weakens the muscles, and there is no cure. My brother has been in a wheelchair since he was 10 years old. In 2009 he was given the gift of having a wish granted through The Make-A-Wish Foundation. Without hesitation, he announced that his wish was to go to Mets Spring Training.
 
 
Christopher has been a Mets fan since the day he was born thanks to our parents and to living just ten minutes away from the stadium. We practically grew up at Shea Stadium, with many Christmas card pictures featuring us at a Mets game.
Johan Santana signed Christopher's shirt after speaking with him /
Like many Mets fans, Christopher's mood directly correlates with the Mets performance. He's happy when they do well, and angry when they mess up. The Mets are, and always have been, Christopher's first love. Being able to watch (and sometimes go) to games are the highlight of his day. Actually getting the chance to go to Spring Training was the highlight of his life.
In March of 2009 we were flown down to Florida where we were able to attend Mets Spring Training two out of the three full days we were there. Even though the game didn't start until the evening, we were able to go to Tradition Field early and meet the team. It was a dream come true for Christopher – and me too of course! We had the opportunity to spend hours on the field with the Mets as they practiced and hung out. Christopher was able to go up to his favorite players, talk to them, ask for autographs, and receive encouragement from all of them. Every player had nothing but great things to say to my brother, and it made me so proud to be a Mets fan.
As if getting the chance to chat with the Mets wasn't enough, Christopher was even able to be part of the game. Before the game started, Christopher was asked to go to home plate to be part of the coaches and umpires trading line-ups. They even announced his name and put it on the big screen at Tradition Field, making Christopher feel like part of the team.
Ask Christopher now what the best part of going to Spring Training was and without hesitation he'll tell you that it was meeting Jose Reyes. "He even called me papi!" Christopher still exclaims. Jose Reyes had just lost in the World Baseball Classic with the DR, which was a blessing to us as we were able to meet him at Spring Training. Unfortunately, (or I guess you could say fortunately) the Captain was still at the WBC playing for the states.
In addition to Reyes, Christopher and I got to meet past Mets such as Mike Pelfrey, Ryan Church, Daniel Murphy, Ramon Castro, Luis Castillo, and Johan Santana, just to name a few. Yes, I know, no one we met at Spring Training is on the Mets anymore.
This was hands-down the best experience of Christopher's life. Not only did he get to meet the team that he has loved since the day he was born, but he got to interact with them as well. The Mets made a 14-year old boy's dreams come true. Fingers crossed they'll make his dreams come true again – this time by winning the World Series.
This past season, the Mets brought a new life into Christopher. Considering he was only 6 years old in 2000, he finally got to watch the team he loves in the World Series. He was (and is) a proud fan, and was grateful to get to experience Game 3 of the NLDS; an atmosphere he describes as only second to actually going to Spring Training. Mets, I know we have #UnfinishedBusiness to take care of this season, so let's go win it for Christopher.
Next: Josh Edgin is aiming to return on May 1st
Thank you Mets and Make-A-Wish for this amazing experience, and keep making dreams come true.
I got to have some of the fun too! /